Lisa
, thank you for tagging me!!!! Awww.... I feel so touched when you mentioned my name in your post. Even though I sounded so amateur and silly back then, I'm more than flattered to have intrigued you in some way! Obviously, you are so much more diligent and better at updating on your blog than I.... Kudos to you! Anyways, I really enjoy doing tags, and I'm going to copy your format, hehe....
What's your favorite beauty item?
Currently, I'm obsessed with Prestige Skin Loving Minerals bronzer. I'm no expert when it comes to applying bronzers. A lot of bronzers tend to make my face look "dirty" or orangy. I got the Prestige bronzer in Rich Bronze last summer (it was on sale for about $3.50!!!!). I think I found my HG bronzer. The powder is very finely milled, and it gives you the most divine bronzy sheen on your cheeks. I've gotten a lot of compliments when I wear this bronzer. And of course, the domed shape and the veinings on the surface always draw me into reaching for it (and staring at it) every single day.
How did you become interested into beauty?
I've always had the urge to "paint" on my face..... Of course, it was more like randomly drawing than makeup. I became really obsessed with makeup the summer I graduated from college. Back then, I could barely apply mascara without poking my eyes out. As for eyeliner? I would apply a thick and uneven line first, then I would use makeup remover to wipe off the excess. VOILA, that's my version of tight lining!
Ok.... enough babbling. During college, I took jazz/hip-hop lessons and we had to perform on stage. That's when I realized I didn't know anything about makeup. At the time, I had no idea about the makeup community. So I searched for pictures of celebrity wearing smoky eye makeup and tried to imitate. I felt really frustrated because I could never replicate the look the way I wanted. And then there were formal dinners, my graduation ceremony, and my first time going to the club... I just wish I knew what to do with my face for different occasions. It was not until after I graduated from college, I realized that there were so many makeup blogs, forums and tutorial videos on youtube. Then I got really into it and start hoarding makeup products..... LOL
Examples of my "painting" and my "smoky look" (back then)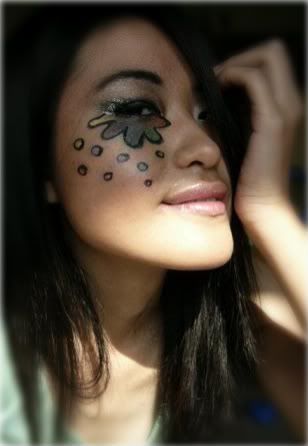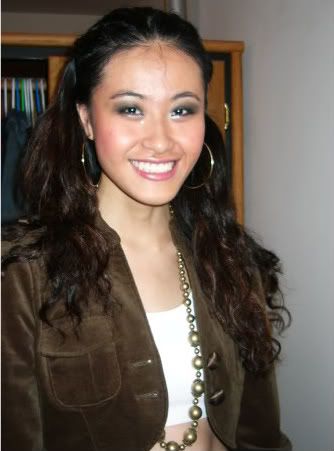 What do you like to see the most into a blog?
I'm definitely more of a visual person. I love to see pictures... of anything. FOTD, OOTD, makeup products, swatches... even just random places or food. And I love to read about bloggers' life stories and get to know them more personally.
What's your favorite hobby (besides blogging)?
I love photography. I really enjoy capturing beauty in ordinary things with my lenses. It's such a unique feeling to be able to see things that other people don't. I wish I'll be able to have my own photo exhibit one day... even if that means I have to pass out free tickets and force friends and family to show up.... LOL
"Not a Happy Camper"
Nope, I didn't draw on the jelly bean. It came out like that from the jar!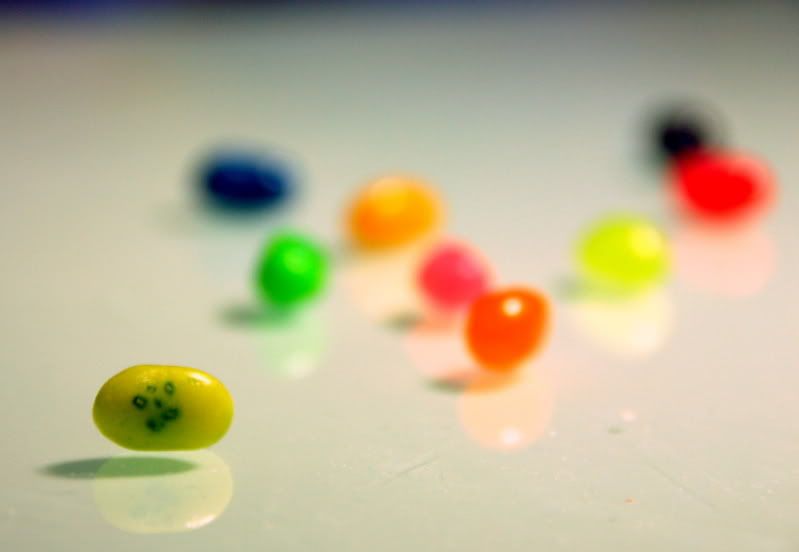 What's your favorite book?
Confession time..... My name is Jessie, and I don't like reading books. It's shame that I haven't read that many books. I'm more drawn to books with investigative or sci-fi-ish storyline. I really liked "Da Vinci Code". If I want to be all artsy and romanticist, I enjoyed reading Awakening. It's a sad but beautiful love story, and there were so many lines that I really liked.
Do you study/work?
Yes, I'm still studying.... after almost 20 years of education..... There's a Chinese saying "活到老,学到老." which translates to keep on learning as long as you are alive. So I guess I'll always be learning regardless.
Do you have a dream?
I wanted to be a veterinarian since I was in third grade in elementary school. My dream now is to become a successful vet-- to be good at what I do and to enjoy what I do. I also want to buy my own house and have lots of pets. =D
Alright.... so I'm not sure who has already done this tag. If you happen to pass by and saw this post, you are tagged! =D